I had big plans to take a few days off and head further from the house, but work and other things got in the way so I was limited to Friday night through Sunday morning for a quick walk in the woods.  I  was considering exploring a new section of the Uwharrie Trail, but ended up not having any time to plan a trip there due to an overload of work.  Instead I went with an old faithful…Birkhead Mountain Wilderness about an hour and a half from the house just north of the Uwharrie Trail (but still in the namesake Uwharrie Mountains).  This is the "central park" of North Carolina, and has some great advantages over some other destinations:
Easily accessible from the metropolitan areas in NC (Triangle, Triad, and Charlotte)
Low hills (some of the oldest in the world!) make for a great beginner hike…I have taken several first time backpackers here
Very bushwacker friendly to escape the crowds
I arrived at 6pm on Friday and hopped into the woods, then left the trail after a mile to seek out a few new areas and some old favorite campsites.  The great thing about the Birkhead Wilderness is getting off trail.  There are very few areas where it is difficult walking.  You can head out there on a crowded weekend and still see almost no-one if you plan the trip right.
I camped on a relatively warm (40) and foggy night at a favorite spot near the Thornburg Trailhead along a small stream and beside what I think is an old surface gold(?) mine.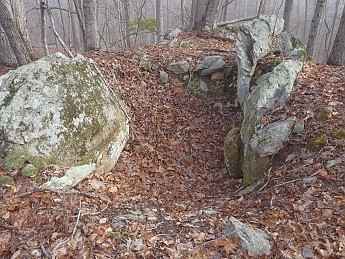 Even having been on the trail for a short afternoon, I immediately started slipping into the old comfortable routine.  Setting up the tent and cooking dinner in my Caldera Ti Tri quickly purges all thoughts of work and begins that relaxation that only time in the woods can provide, at least for me.
I kept the Caldera cone going after cooking as it was a nice break from the misting evening…see my review of this stove (I absolutely love it).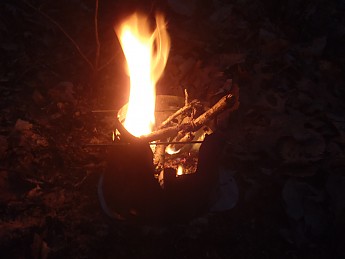 Saturday started out misty and wet, so I packed up damp and hit the woods.  I ended up traveling about 8 miles off trail plus used the main route through the wilderness for a few miles to jump from the north side to the south. Bushwacking through the hardwood forest and exploring little corners of this small wilderness was just what the doctor ordered for a great weekend – no major views but lots of quiet woods.
I stopped for lunch along the Birkhead trail at my favorite convenient tree and hung out the tent and a couple other items to dry in a nice sunny breeze.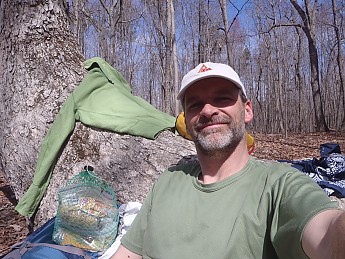 After my usual lunch, a hot cup of tea…must be my British genes (although its green tea!).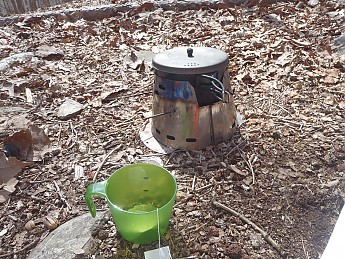 A couple more miles on the trail took me to the southern section of this small wilderness after meeting a couple of groups on the trail and passing by the site of an old plantation.
I headed off on an old road bed to explore a few more areas and settle into a nice campsite.  It's really satisfying when one of those spots you imagine is a great site while looking over the map turns out that way.  This one had a winter/leaf off 360 degree view from the knob of a small hill (about 750 ft).  I kept the Lightheart Gear Solong 6 open on all sides for a great view in all directions and a night of watching the stars until some clouds came over.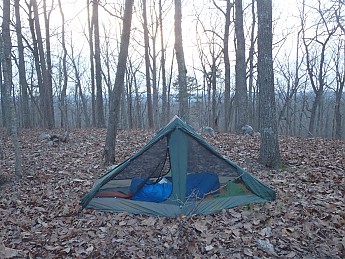 Sunday came too quickly and I had to be back home by mid-afternoon.  I took the scenic route out (about 5 miles off trail and a mile or two on) and "discovered" a few more neat spots.  Rock formations….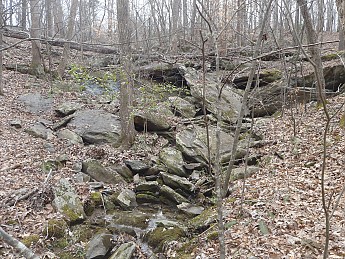 and pretty streams…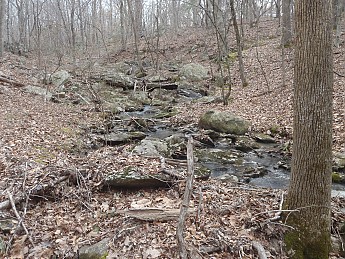 This trip was way too short from 6 on Friday to noon Sunday, but a well needed break from the grind and a beautiful weekend to be in the woods.  I have been spending more time on trips further from home, and forgot how nice a quick trip to a local spot can be.  Next time I have a short weekend free I'll have to check out the Uwharrie Trail to the south, but I'll always have the local spot here for a nice dependable backup plan when all else fails.