I had the opportunity to get dropped off and picked up in SW Virginia while my wife was passing through on a sister's trip.  For convenience, I decided the best route for her would involve a trip on the Appalachian Trail.  I had some doubts about this as I am not an AT guy, preferring wilderness trails, LNT camps, and bushwacking to mile counting and shelters.  It had been decades since I spent any time on the AT except for using it to connect to other trails.
Day 1 was a quick afternoon hike south from Hwy 16 at Partnership Shelter.  Had to stop due to the early darkness this time of year (I don't night hike when going solo).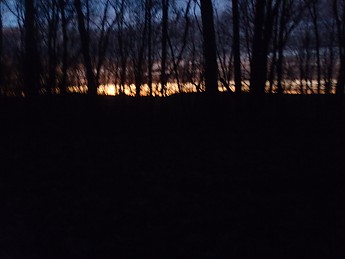 Day 2 found me walking through a mix of farmland and forest, including the Raccoon Branch Wilderness with a camp along Hurricane Creek. I wasn't looking forward to the more "developed" portions of the AT, but I found the farmland particularly pleasing even on a windy and cold day.  I had opted to not bring a wind shirt…big mistake as I ended up wearing my rain jacket a good bit as that shield layer.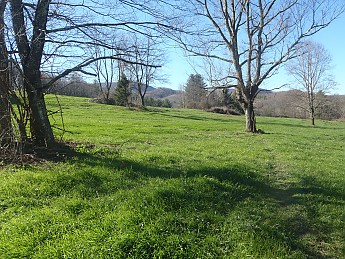 Even the overused grandad of trails like the AT can look pretty neat in the morning light.  I was surprised at the good condition of much of the trail in this area considering the number of folks using it each year.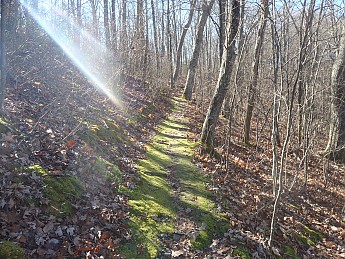 And although other areas may have more interesting geology, sometimes the little things are just as noteworthy.  This was along a windy knife edge ridge before crossing SR 670 and heading into the Raccoon Branch Wilderness.

There were some really nice winter views along this stretch that I am sure will disappear as the "green tunnel" leafs out in the spring.
In a fit of ounce counting at the last minute, I decided to leave my reading glasses at home and carry a little pair of reading specs I got from Trail Designs. I think I'll carry both next time – the specs to check maps and make notes with the pack on and the reading glasses safe in a case in the pack for longer use in the evening. The specs worked great for a short time but began to pinch in camp when worn more…they look a little goofy but that hasn't bothered me!
Friday night saw temps down to about 20 with 30-50 mph winds to top it off.  My kind of weather to be honest and limited the trail sharing to just a few folks.  My Feathered Friends 30 degree bag kept me snug and warm with a base layer on.  A warm cup of coffee on a cold morning beats almost everything else I can think of.  I reviewed this Sea to Summit mug on Trailspace along with the FF bag (see gear review page).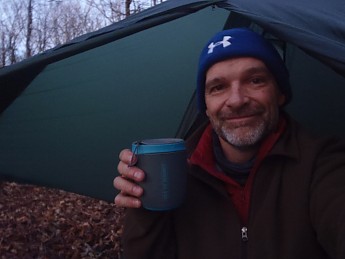 Day 3 was a climb into the highlands – one of my favorite areas as it reminds me of my home country of Scotland.  Through Fox Creek and up to Pine Mountain, then cheated a bit to shortcut along the Pine Mountain Trail and join back up with the AT near Mt Rogers. A mix of nice forestland,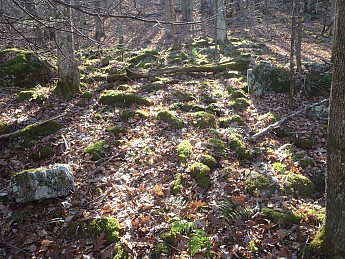 waterfalls,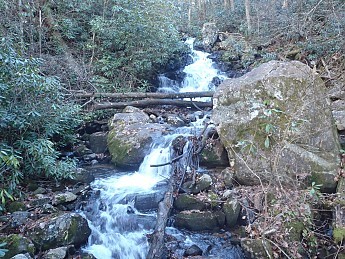 and finally back in the high country…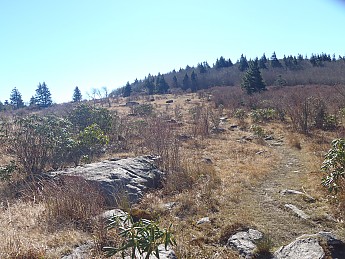 Pine Mountain Trail allowed me to shortcut a crowded part of the AT near Massie Gap in Grayson Highlands State Park, while also enjoying that high country scrub with the famous miniature horses.
Met the expected crowd of folks along the AT (day hikers and thru's) on the short section between the Pine Mtn Trail and Mt Rogers, but then lost everyone by continuing south to Elk Garden Ridge and a nice dry camp as the wind died down.  Kept the Caldera Cone (see below and my gear review) going for some LNT heat after dinner.  After dusk a bear strolled by a couple of hundred yards away but paid me no mind as I was quiet and not in one of the regular campsites.  Sorry – too dark for a photo – I could make out its outline as it paced through the leafy forest downslope from my campsite.  Definitely not a deer, of which there were many out there.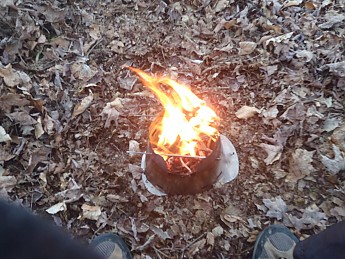 Day 4: I always forget how fast you can get conditioned to low temps (at least low for the southeast) as after 2 days of 20-40 degrees with high winds, the calm 30's in the morning was t-shirt weather even just packing up camp and along an icy trail in the shaded morning.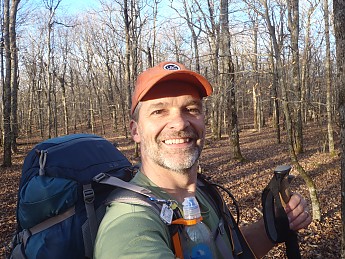 A beautiful walk followed through fields and Balsam Mountain forests,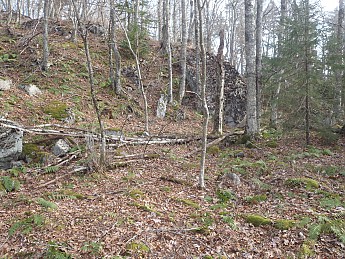 with some friendly deer,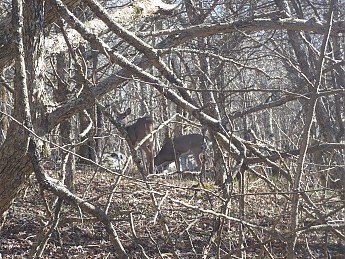 over Whitetop Mountain and Buzzard Rock,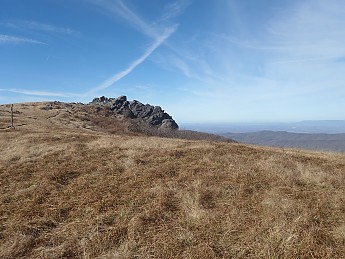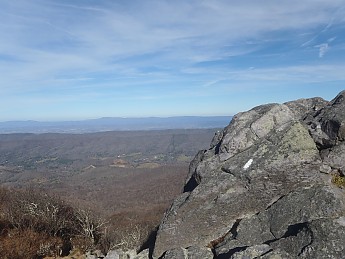 yielded a wonderful morning hike, but you have to pay for trails and views like that…with a 2000 ft descent from Whitetop out of the high country into farmland and forest.  Descents like that always play hell with my knee and this was no different…with a trekking pole controlled slide on a rock tweaking the old injury.
After merging with the Virginia Creeper bike trail for a while,
I hobbled into camp near Saunders Shelter for a last night and enjoyed the rest after a long day on the trail.
Day 5:  A quick trip out to Hwy 58 along a rocky trail, for an almost perfectly timed pick up by my beautiful wife.  Stopped a few miles short of my primary destination of Damascus due to the knee problem, but had an enjoyable trip for the 50+ miles I did complete.
It's been a couple of decades since I last spent any significant time on the AT, besides using it to connect to other trails or make loops.  As I mentioned, I was a little reserved going into this trip as I was expecting a worn out trail with lots of people.  The weather was a factor in reducing the people down to a couple per day, and the trail exceeded my expectations in other areas.  I had forgotten how this great trail came about and hiking it made me immensely proud of this country and our attempt to preserve the wilderness and provide trails for the enjoyment of all.  I was also left with a deep sense of gratitude toward the countless volunteers in all the AT clubs that keep this trail in such good shape.  I'm still not going to spend much time on the AT between March and October, as it's just not my style, but it doesn't lessen the appreciation of the effort of those volunteers and the accomplishment of those who thru-hike.
I'll be back next winter!